Trenchless Pipe Replacement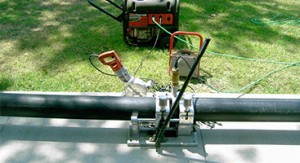 Trenchless pipe replacement is a relatively new process that will save you time, money, and headaches while it preserves your landscaping, driveway, hardscaping and the beauty and value of your home. Part of this process includes "pipe bursting," a method where a large, cone-shaped head is hydraulically pulled by a steel cable through the existing sewer line, breaking apart the old pipe while at the same time bringing in the new seamless HDPE pipe with it.
How does trenchless pipe replacement work?
1. Find the problem.
Our Los Angeles rooters will run their video camera into your line to determine where the blockage or break is.
2. Expose the sewer line and prep for pipe bursting.
Two small holes are dug by hand at either end of the sewer that will be replaced. After the holes are dug, the technicians run a steel cable into one end of the existing sewer line and feed it through to the opposite end. One end of the steel cable is attached to the hydraulic machine that will pull in the new line and the other end of the cable is attached to a cone shaped head which is also attached to the new, seamless, heat-fused HDPE pipe.
3. Let's pipe burst.
The steel bursting head breaks through the existing pipe, pulling the new pipe behind it. A hydraulic ram pulls the steel cable and cone-shaped head through the existing pipe, replacing it with the new HDPE pipe. This new HDPE pipe is tough and flexible and has a service life of over 100 years.
Mr. Sewer Rooter gives you a 100 year warranty for trenchless pipe replacement, which is a guarantee unlike any other in Los Angeles. We can Pipe Burst 3", 4", and 6", so contact us today!